Hydrogen Powered Train Coming to Southern California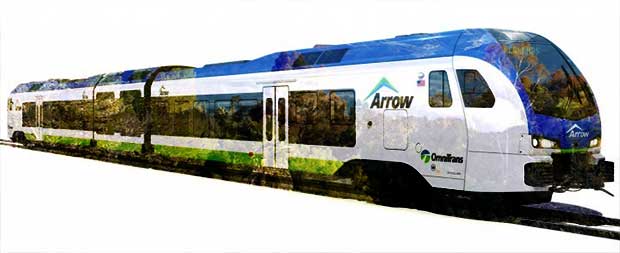 Hydrogen power has been one of the major points of emphasis of the last decade. With the increasing knowledge that we need to do more to make our lives more sustainable, power plays a big role in that discussion. It's a big reason why things like a hydrogen-powered train is such a big story in the modern world. The more that we can do to make our day-to-day lives more green-minded, the better it is for the world. And that's why Stadler signing up a hydrogen-powered train (hydrail) is such exciting news for the science community.
This contract has been signed between Sadler and San Bernardino County Transportation Authority. This will see a highly impressive hydrogen-powered passenger train come to the USA. It's the first of its kind and will be part of a long-term emissions free passenger rail project that is place. Expected to arrive in 2024, this service will be part of the wider Redlands Passenger Rail Project, which is going to create a nine-mile connection between Redlands and the San Bernardino Metrolink.
This is a major step forward for progress when it comes to hydrail hardware. The development of such hardware has been a talking point for many years, and it looks very much likely to continue in the long-term future. We can expect to see more trains come into the network as time goes on, too. With seating for up to 108 passengers, this is going to be a train that is more than capable of helping to improve how we get passengers to and from one location to the next.
It's why there is such a genuine excitement about the project – it could be the next step in making public transport more economically and environmentally viable.
A whole new kind of transport
This major step forward is going to change so much about the way that we travel. And it's fair to say that the SBCTA team are excited, with SBCTA President Darcy McNaboe saying: "The hydrogen FLIRT will help us address the commuting needs of today while preserving our environment for a better tomorrow."
This was always the logical next step in the partnership between Stadler and SBCTA which formed in 2017. They first took on a trio of diesel electric multiple units, and then started to work towards creating something even more effective and ethical from an environmental standpoint. Now that it's here, the main question is what comes next?
Hydrogen-powered public transport was once seen as a dream that would never come to fruition. Now, it's here and it's going to grow exponentially.
Citation
https://inlandempire.us/green-tech-for-the-us-stadler-signs-first-ever-contract-for-hydrogen-powered-train/
Source: Green Tech News