Advanced Circular Recycling Technology Launches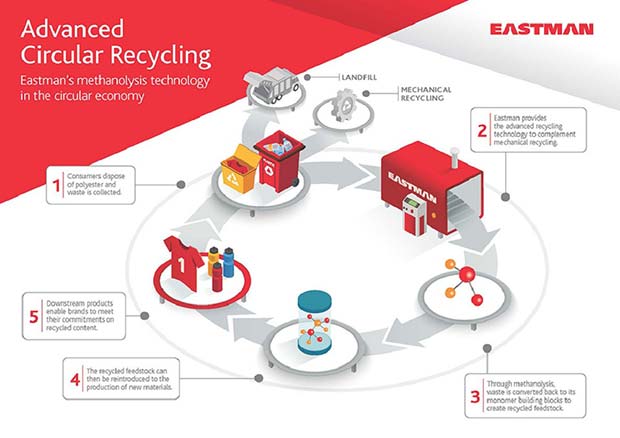 For years, the process of recycling has
become more and more important. Many used to see recycling as excessive: today,
we understand its critical importance to building a safer world. However,
recycling is, for many people, a confusing process. New technology is always
being formed, though, to make recycling an easier process. That development
looks to have taken another turn, though, as we now see an advanced circular
recycling technology project being launched.
The aim was to help improve chemical
recycling and make the world far less likely to waste resources. For example,
polyester waste at moment mostly cannot be recycled by present hardware. Thanks
to the work of Eastman Chemical, though, that has changed. With a full-scale
circular recycling facility set to build within 3-years, this could be
transformative for green minded people.
Eastman Chemical are certainly a name
within the industry known for making important changes to society. They have
been developing methanolysis tech that can be used at commercial level. This
technology takes polyester products and then breaks them down into polymer
building blocks. These blocks can be used for other polyester-based polymers.
That will then create the truly circular process that is needed, reducing waste
and improving sustainability massively.
This technology is seen as being a
powerful solution for reducing polyester waste. With most polyester waste of
lower quality becoming part of landfill sites, this could help to avoid waste.
That low-quality polyester could then be refined and, with time, turned into a
higher quality polyester. This could be used for various other markets, meaning
that the polyester we throw out could find a second use afterward.
At present, Eastman Chemical is currently
working on the design and construction phase of a commercial level methanolysis
system. They are also in discussion with various partners about these
developments, and might be much closer to reality than we presume. The circular
economy is one that needs to become more prominent in the modern world, with
excess consumption and waste beginning to have major negative impacts on
society as a whole.
The world needs to find a new way to
innovate and use what we already have. Projects such as this deliver a much
longer chance doing just that. Now, instead of dealing with one-time use
polyesters, they can be used again and again.
It's this kind of innovation, then that
could help to limit the environmental impact that we have on the planet. This
could be one of the biggest steps in the recycling industry for some time,
though, if it goes through. Given the importance to changing how we live as a
society, though, it couldn't be time any better.
Source
https://www.ptonline.com/blog/post/eastman-to-launch-advanced-circular-recycling-technology(2)
Source: Green Tech News