ELF Solar Velomobile Review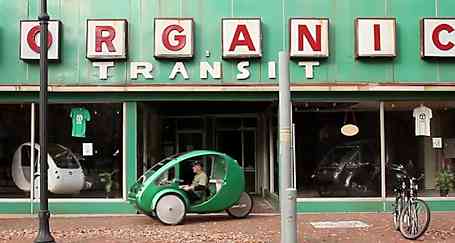 If you would like to minimize your carbon footprint by buying a small green solar vehicle, there are many eco-friendly ones from which to choose. One of the top options is ELF, a solar-powered velomobile that's designed and built by North Carolina-based company Organic Transit. With its unique design, sleek, attractive body and many benefits, it definitely should be on the top of your list.
Specs
The ELF comes with a built-in solar panel that powers its 600-watt electric motor. If you let the motor do all the work, it can reach around 20 mph and last up to 45 miles (on a single charge). But, if you pitch in and use the pedaling function, the vehicle can zoom down roads at 30 mph and reach 100 miles even with just a single charge. You can recharge the motor through sunlight and have it fully charged in seven hours. In a hurry to go somewhere? Recharge the vehicle through its AC power adapter (which takes around two hours and 30 minutes).
The vehicle measures at 105 inches (length) x 45 inches (width) x 60 inches (height). It weighs around 150 lbs but can carry a payload of up to 350 lbs, which means there's enough room for you as well as your bags, groceries and other things.
Other key features
The ELF is built with an aircraft-grade aluminum frame and a durable carbon fiber body and comes with stainless steel hardware. Because of these, it can withstand constant exposure to rain and sun and can last for a long time with proper care. It's also designed with safety in mind; through its LED headlights, brake lights, and turn signals, you can alert motorists and pedestrians about your presence and keep accidents at bay. Of course, Organic Trust made sure that users can ride the vehicle with ease by equipping it with familiar bicycle steering and ensuring the body can accommodate people of varying heights (from 5 feet to 6′ 9").
One of the best things about the ELF is that it's legally classified as a bicycle (even if it comes with an electric motor). This means you can use it even if you don't have a driver's license, and you can take it almost anywhere you like. Another great thing about this vehicle is that it encourages you to exercise. Since you'd have to use the pedal if you want to drive at a faster speed and/or extend the motor's life, you'll give your muscles a good workout and burn a substantial amount of calories without even knowing it. As a result, you won't only get to save a substantial amount of money and help Mother Nature but you'll also improve your health and be fitter and stronger.
Source: Green Tech News